The presence of fall armyworm through the eastern states of Australia is understandably concerning for the grains industry. But due to the lifecycle and migration patterns of this species, there is little to worry about during winter in South-eastern Australia.
In this article we give a quick summary of likely fall armyworm movements this year and remind readers how to tell the difference between fall armyworm and other moth larvae.
What we know about fall armyworm in Australia
Fall armyworm, Spodoptera frugiperda, is a highly migratory, invasive pest and is now present in Queensland, the Northern Territory, New South Wales and Western Australia. There were a small number of detections in Victoria in late 2020.
At this stage fall armyworm is predicted to have permanent year-round populations in the northern tropical and subtropical regions of Australia.
Recent modelling research conducted by Cesar Australia shows that in Victoria and southern NSW it is more likely that we will see migratory populations appear in October and increase over summer and autumn before dying off over winter. Depending on seasonal conditions, these migrations may not occur every year.
---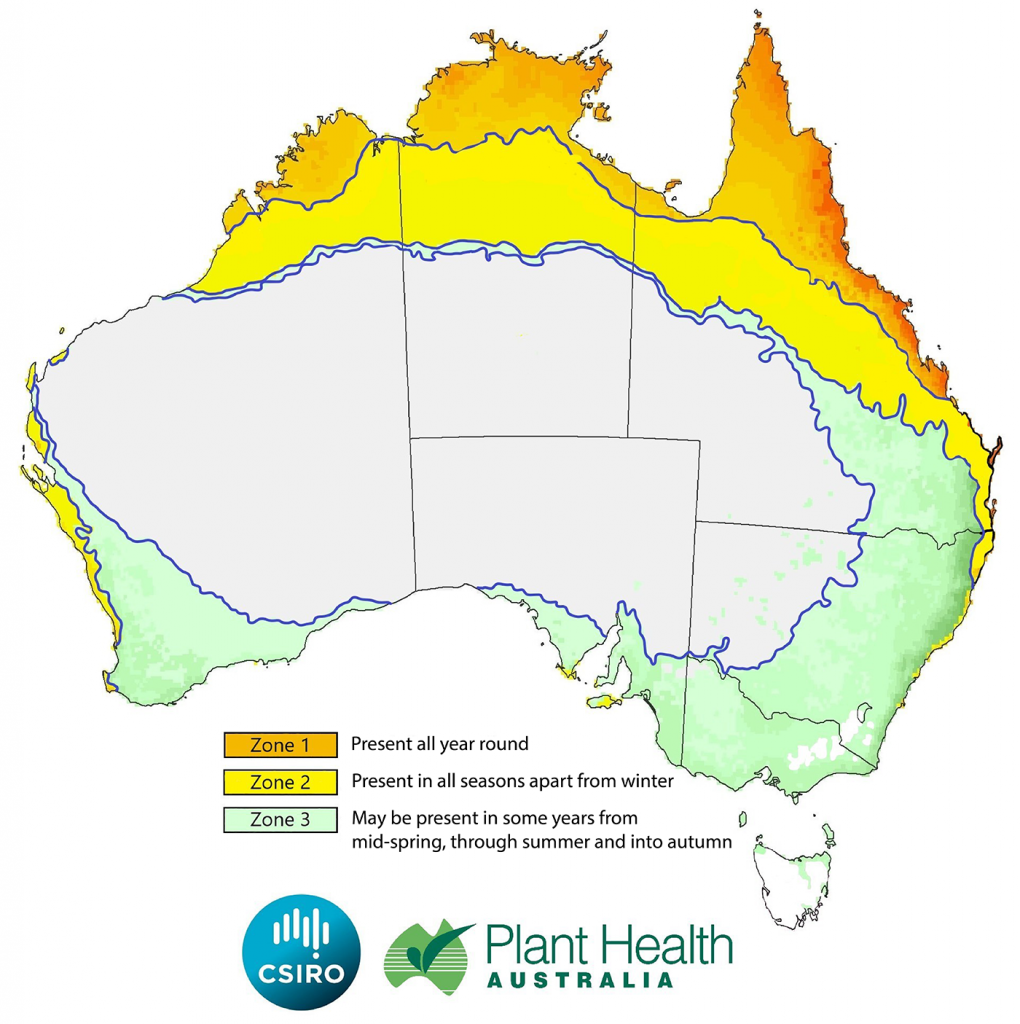 Research suggests that the most preferred fall armyworm hosts in Australia will be maize, sweetcorn and sorghum, followed by C4 (summer) pasture grasses, sugarcane and rice.
In Queensland fall armyworm has been observed to be most damaging to maize (and sweetcorn).
For more information see the fall armyworm continuity plan for the Australian grains industry. This plan was developed through a GRDC investment led by Cesar Australia and contains a wealth of information on identification, biology, monitoring and management considerations.
How to tell fall armyworm from other moth larvae
The fall armyworm is often confused with other moth larvae, particularly native armyworm species (Leucania convecta, Persectania ewingii and Persectania dyscrita).
There are a number of other species which can be mistaken for fall armyworm including: Helicoverpa punctigera, Helicoverpa armigera, weed web moth  (Achyra affinitalis – common in many broadleaf crops in southern Australia) or other noctuid moths such as Peripyra sanguinipuncta.
The confusion is understandable, as the fall armyworm grows to a size of about 35 – 40 mm and can have three parallel light stripes along their body, similar to other armyworm and related larvae.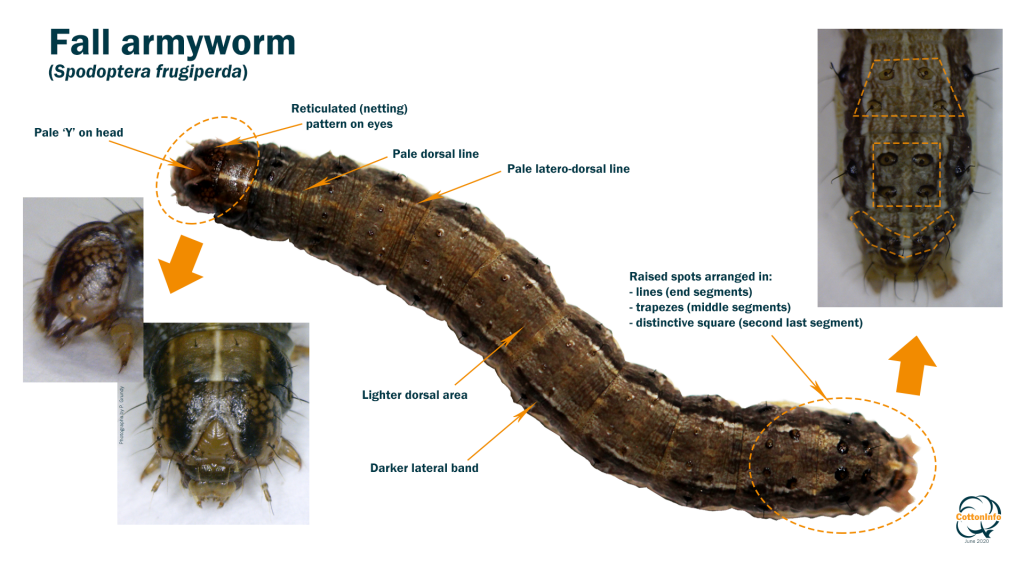 The key morphological feature of fall armyworm is that larvae have several obvious spots or 'pinaculae'. These are the hardened areas at the base of each hair. These spots are very pronounced compared to other armyworm species in Australia.
On their second last body segment four of these spots are particularly enlarged and are in a square arrangement.
The additional information which helps with identification is the differences in lifecycles. Fall armyworm prefers warmer climates and will only start to migrate to the southern regions in spring.
So, if you find a caterpillar in autumn or winter, it could be one of a number of species including the indigenous armyworms, but it's unlikely to be fall armyworm.
But of course, identification can be complicated, especially since appearance of the larvae changes with each instar and fall armyworm, and armyworm in general, can appear in a wide variety of colours.
If you come across moth larvae in the field and would like further assistance with identification, please feel free to contact us via pestfacts@cesaraustralia.com.
Fall armyworm trapping program
Migrations into southern regions are predicted to commence from spring, with populations subsequently building up into summer. It will be important to monitor for presence of fall armyworm during this time, especially in high-risk crops.
The adult moths can be monitored with pheromone lures and bucket traps. A permit is available for use of lures and dichlorvos cubes in traps (PER89169). The presence of adult moths will indicate when to monitor for larvae and look out for feeding damage.
We will be conducting a fall armyworm trapping program in Victoria and southern NSW starting in November. If you are interested in being part of the program, please get in touch.
Acknowledgements
Many thanks to Garry McDonald (UniMelb) and James Maino (Cesar Australia) and Leo McGrane (Cesar Australia) for contributions to this article.
Further reading
Regional and seasonal activity predictions for fall armyworm in Australia
The beat sheet: Fall armyworm – should you be concerned?
Fall armyworm identification by QDAF