The presence of fall armyworm (Spodoptera frugiperda) through the eastern states of Australia is understandably concerning for the grains industry. The NSW Department of Primary Industries (NSW DPI) and Local Land Services have been conducting surveillance for fall armyworm across NSW. In this article we give a quick summary of the trapping network and the recent detections in NSW.
For more information on fall armyworm in Australia see our previous PestFacts article.
NSW trapping network
Adult fall armyworm moths can be monitored with pheromone lures and bucket traps. The presence of adult moths indicates when to monitor for larvae and look out for feeding damage.
The NSW fall armyworm trapping network is run by NSW DPI and Local Land services and is managed by Dr Lisa Bird. The traps with pheromone lures are deployed along the boundaries of host crops and are inspected once per week.
Cesar Australia has been contributing to the NSW DPI fall armyworm trapping network by providing traps and pheromone lures to growers and agronomists in southern NSW.
If you are interested in conducting fall armyworm surveillance in your area a permit is available for use of lures and dichlorvos cubes in traps (PER89169).
Detections in NSW
The map below from NSW DPI shows detections of both moths and larvae along the NSW coast. There have been a small number of detections across the North West and Northern Tablelands regions, including a new moth detection at Tamworth. Last week, the first detections of moths and larvae were confirmed in the South East region at Jellat Jellat near Bega and in the Riverina at Hillston.
Growers and advisors of susceptible crops in these areas will need to be conducting regular in-field checks for signs of larval activity and feeding damage.
For more information and updates on fall armyworm detections in NSW visit the NSW DPI fall armyworm website.
Identifying and reporting fall armyworm
The fall armyworm is often confused with other moth larvae, particularly native species of armyworm (Mythimna convecta, Persectania ewingii and Persectania dyscrita).
The confusion is understandable, as the fall armyworm grows to a size of about 35 – 40 mm and can have three parallel light stripes along their body, similar to other armyworm and related larvae.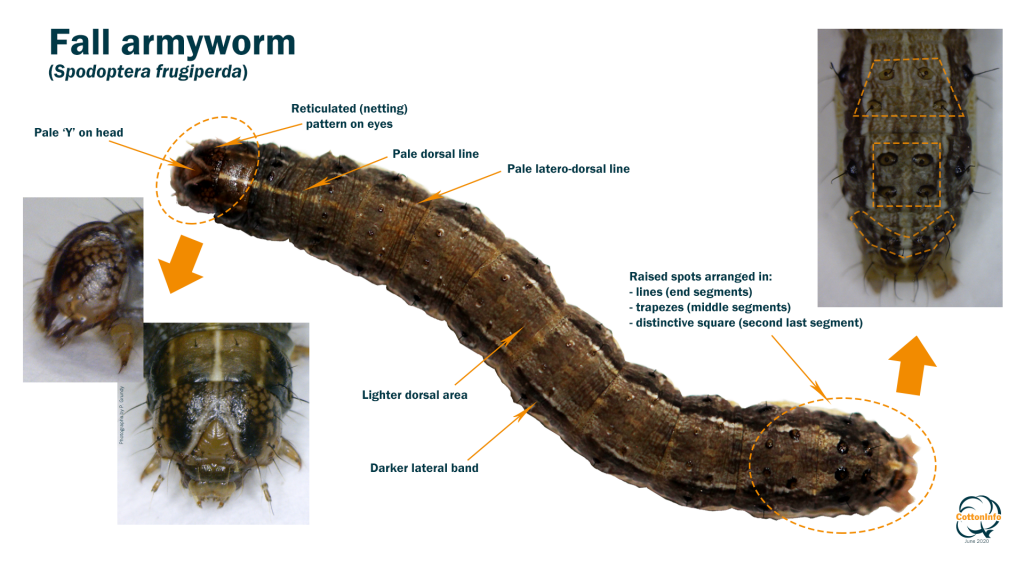 The key morphological feature of fall armyworm is that larvae have several obvious spots or 'pinaculae'. These are the hardened areas at the base of each hair. These spots are very pronounced compared to other armyworm species in Australia.
On their second last body segment four of these spots are particularly enlarged and are in a square arrangement.
But of course, identification can be complicated, especially since appearance of the larvae changes with each instar and fall armyworm, and armyworm in general, can appear in a wide variety of colours.
If you need assistance with with larval identification you can send clear photos (including the head and tail ends) to: fallarmyworm@dpi.nsw.gov.au
Fall armyworm is a notifiable plant pest in NSW. All notifiable plant pests and diseases must be reported within 1 working day. If you think you have detected fall armyworm you can report it by one of the following methods:
Acknowledgements
Many thanks to Dr Lisa Bird for coordination of the trapping network and providing information that contributed to this article.
Further reading
Top tips for managing fall armyworm from NSW DPI
Regional and seasonal activity predictions for fall armyworm in Australia
The beat sheet: Fall armyworm – should you be concerned?
Fall armyworm identification by QDAF