Green mirids
Creontiades dilutus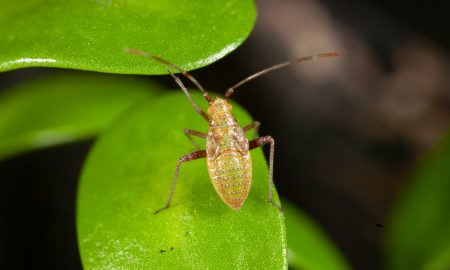 Photo by Andrew Weeks, Cesar Australia
Summary Top
Green mirids are endemic to Australia and pests in several crops, particularly in the warmer northern areas. They breed on a range of native and weedy hosts and can undertake long-distance migration between inland regions and coastal agricultural regions of Australia. They can have multiple generations through spring and summer, hence monitoring susceptible crops during this time should be undertaken. Controlling non-crop weedy hosts can reduce green mirid damage, however, insecticides remain the primary method of control for this species.
Occurrence Top
Green mirids are endemic to Australia and have been recorded in all states and territories, but they are common within Queensland and northern New South Wales. They are most commonly found in crops within the spring and summer months.
Green mirids are endemic to Australia and have been recorded in all states and territories.
Description Top
Adult green mirids are green to yellowish-green in colour and approximately 7-9 mm in length. They have an elongated body with clear wings folded flat on their back, sucking and piercing mouthparts and long, four-segmented antennae. Newly hatched nymphs are wingless and approximately 1.5-2.0 mm in length, with red-tipped antennae that are much longer than their body. They have a pear shaped body and as they grow, nymphs change from a pale brown-orange to pale green. Wings pads start to develop by the third instar.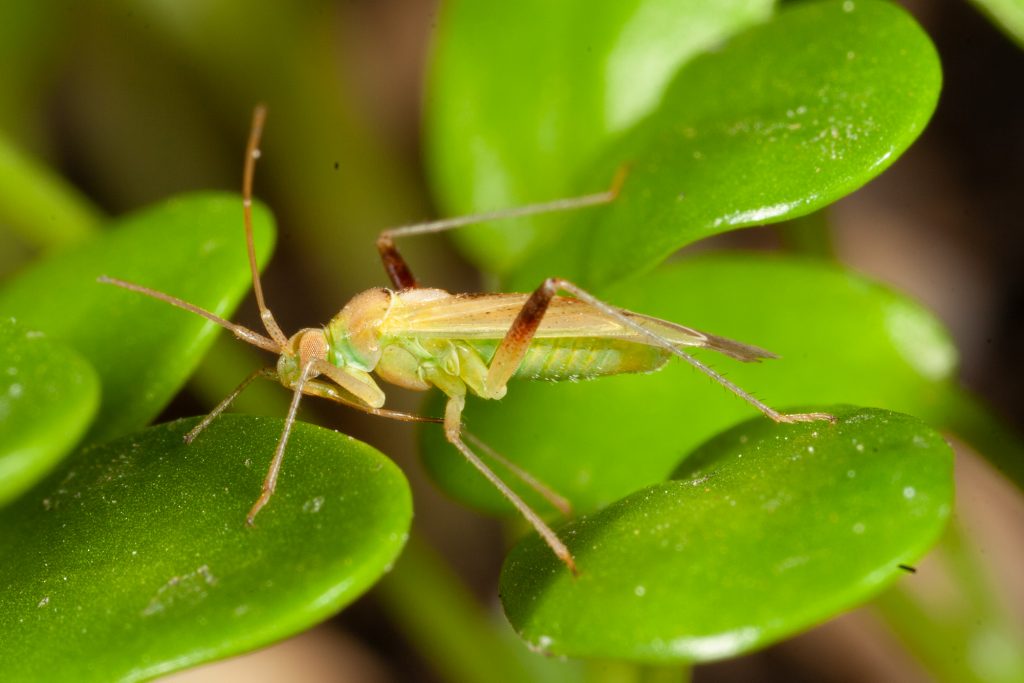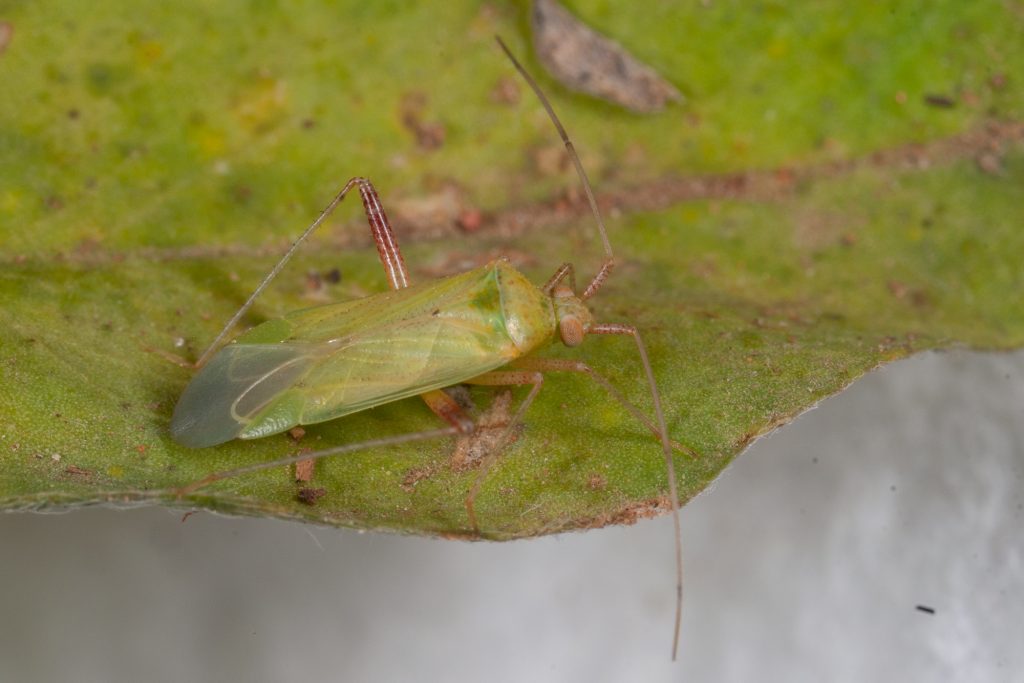 Lifecycle Top
Green mirids develop from an egg, through five juvenile (nymphal) stages to an adult. They are most common during summer months. In south-east Queensland under summer conditions, one generation (egg to adult) can be completed in about three weeks. Adults can live for 3-4 weeks and females lay up to 80 eggs.
Overwintering is achieved as adults or eggs on wild plants.
Green mirids are commonly found within the arid interior of Australia, and have been found to undertake long-distance dispersal between these inland regions and coastal agricultural regions of Australia.
Behaviour Top
Green mirids are highly mobile. Adults will migrate large distances to colonise more favourable environments after the onset of unfavorable conditions, particularly host plant senescence. The migratory influx most commonly occurs in spring and summer.
Similar to Top
Rutherglen bugs, brown mirid, Australian crop mirid.
Crops attacked Top
Green mirids are most problematic in Bt (Bollgard II®) cotton, though they also feed on lucerne, several pulse crops including soybeans, field peas, and faba beans, sunflowers, safflower and many fruits and vegetables including apples, tomatoes, grapes, citrus, potatoes and stone fruits.
Several non-crop plant species have been recorded as hosts of green mirids, including many common weedy species.
Damage Top
Nymphs and adults feed by withdrawing fluids from the growing points of plants with their sucking mouthparts. In cotton this can result in wilted terminals, the abscission of squares and young bolls, and damage to lint in developing bolls. In other crops feeding by green mirids can result in pod, bud and flower abortion, as well as discolouration, malformation, stunting and shriveling of the plant tissues.
Monitor Top
Green mirids are most common in the warmer months, and distribution within paddocks is typically patchy. Susceptible crops should be inspected twice weekly from budding to post-flowering. Inspect flowering parts of crops either visually or by shaking flowering heads into a tray or bucket, or onto a beat sheet.
In autumn, particularly if conditions for summer hosts have been favourable, check crop perimeters, paying particular attention to surviving weed hosts.
Economic thresholds Top
Summer pulses (based on beat-sheet sampling)
Mungbeans:
Early flowering to podding 0.3-0.5m2
Adzuki and navy beans:
Early flowering to podding 0.3-0.5m2
Soybeans:
Flowering to early podfill 4-6/m2
Peanuts:
Flowering 4/m2 (Brier et al. 2008)
Management options Top
Biological
Predators of green mirids include spiders and several predatory bugs, including damsel bugs, predatory shield bugs and big-eyed bugs, as well as predatory wasps. A biopesticide, based on the entomopathogenic fungi, Aspergillus sp. (BC 639) has been developed specifically for the control of green mirids in cotton. This biopesticide has been found to have minimal effects on predatory insects but at the rate of 500 ml/ha has been shown to be effective at controlling green mirids.
Cultural
Cultural control methods that have been recommended for green mirids include the control of host weeds, including wild turnips, wild beans, wild sunflower, marshmallow, noogoora burr, verbena and thistles. In crops such as mung beans, cultural control for mirids can include shortening the flowering period of the crop by planting on a full moisture profile and watering crops just prior to budding. Intercropping with lucerne is also recommended to act as a trap crop for green mirids, which prefer lucerne to other crops.
Controlling host weeds can reduce populations of green mirids
Chemical
Insecticide sprays remain the primary method of control in Australia, and there are many insecticides registered for use against green mirids. There is no known resistance by green mirids to any insecticides at present, however, use of 'insurance' sprays are reportedly common, and can lead to the development of resistance.
Acknowledgements Top
This article was compiled at cesar by Alana Govender (cesar).
References/Further Reading Top
Bailey PT. 2007. Pests of Field Crops and Pastures. CSIRO Publishing, Melbourne, Australia.
Henry K, Bellati J, Umina P and Wurst M. 2008. Crop Insects: the Ute Guide Southern Grain Belt Edition. Government of South Australia PIRSA and GRDC.
Hereward JP, DeBarro PJ and Walter GH. 2013. Resolving multiple host use of an emergent pest of cotton with microsatellite data and chloroplast markers (Creontiades dilutus Stål; Hemiptera, Miridae). Bulletin of entomological research 103 (05), 611-618
Khan M, Mensah R & Gregg P. 1999. Ecology and management of green mirids: population dynamics on cotton. Proceedings of the Cotton CRC Research Conference, 118–127. Narrabri, NSW, Australia.
Khan M & Bauer R. 2001. Comparing damage to cotton bolls caused by green mirid. The Australian Cottongrower 22 (4), 16–18.
Khan M, Gregg P & Mensah R. 2009. Effect of temperature on the biology of Creontiades dilutus (Stål) (Heteroptera: Miridae). Australian Journal of Entomology 48, 210–216.
McColl SA, Khan M and Umina P. 2011. Review of the biology and control of Creontiades dilutus (Stål) (Hemiptera: Miridae). Australian Journal of Entomology 50, 107-117
Mensah RK & Leah A. 2006. A new fungal insecticides for managing Creontiades dilutus (green mirids) on Bollgard® and conventional cotton crops. Proceedings of the 13th Australian Cotton Conference. Broadbeach, Qld, Australia.
Mensah RK and Austin L. 2012. Microbial control of cotton pests. Part 1: Use of the naturally occurring entomopathogenic fungus Aspergillus sp. (BC 639) in the management of Creontiades dilutus (Stål) (Hemiptera: Miridae) and beneficial insects on transgenic cotton crops. Biocontrol science and technology 22 (5) 567-582.
| Date | Version | Author(s) | Reviewed by |
| --- | --- | --- | --- |
| February 2016 | 1.0 | Alana Govender (cesar) | Garry McDonald (cesar), Bill Kimber (SARDI) |
What are PestNotes?
PestNotes are information sheets developed through a collaboration between Cesar Australia and the South Australian Research and Development Institute (SARDI). Copyright: © All material published in PestNotes is copyright protected by Cesar Australia and SARDI and may not be reproduced in any form without written permission from both agencies.
Disclaimer
The material provided in PestNotes is based on the best available information at the time of publishing. No person should act on the basis of the contents of this publication without first obtaining independent, professional advice. PestNotes may identify products by proprietary or trade names to help readers identify particular products. We do not endorse or recommend the products of any manufacturer referred to. Other products may perform as well as or better than those specifically referred to. Cesar Australia and PIRSA will not be liable for any loss, damage, cost or expense incurred or arising by reason of any person using or relying on the information in this publication. Any research with unregistered pesticides or products referred to in PestNotes does not constitute a recommendation for that particular use.