It's been a mild, wet summer this year.
The switch to la nina in the Asia Pacific region in 2020 has meant a very wet summer compared to previous years. Australia experienced its third-wettest December on record and January rainfall in Victoria was 68% above the long-term average.
These conditions have provided some relief from the drought and bushfires of 2019, but coming into the cooler months what does it mean for Russian wheat aphid?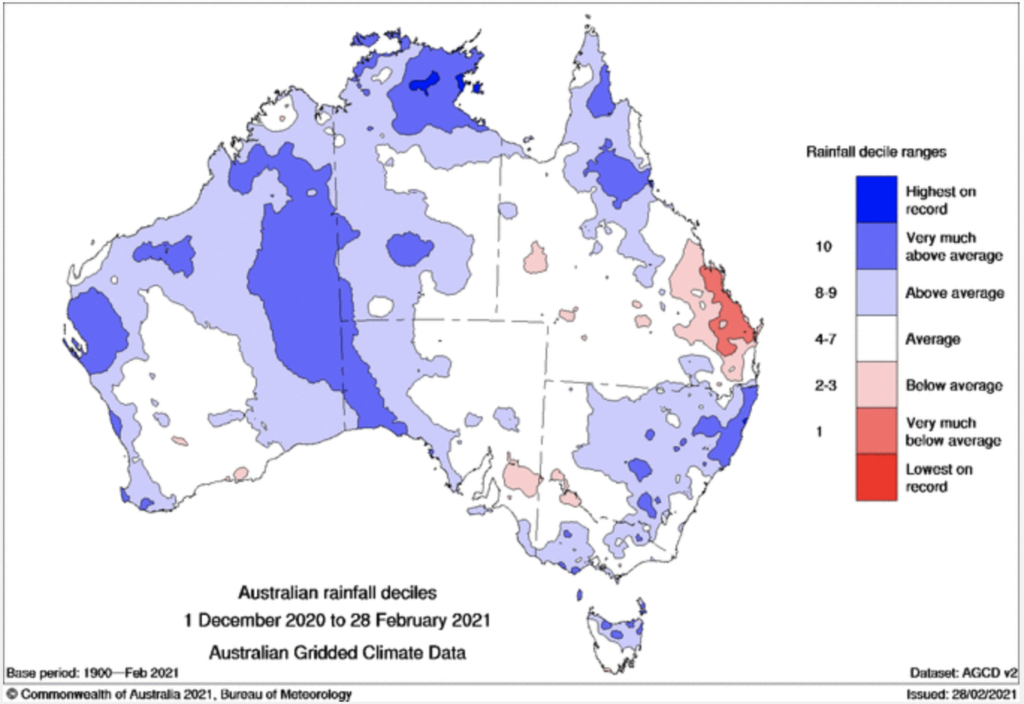 Wet weather boosts green bridges
The wetter than average summer means that much of the vegetation that would normally dry out, die off or fail to germinate may have flourished throughout the warmer months, providing the opportunity for a so-called 'green bridge' to grow between winter cropping seasons.
The green bridge is plant material, crop volunteers and weeds growing between cropping seasons, creating habitats for pests and diseases to persist and even thrive. These out of season plants allow pests to move from one season's crop to the next, and this early colonisation can be especially damaging to establishing winter grains crops at the early growth stages.
Green bridges can be reservoirs of crop diseases and are host to many key pests such as slugs, snails, diamondback moth and a range of aphids, including the Russian wheat aphid, Diuraphis noxia.
For more information on green bridges, see the GRDC Green Bridge Fact Sheet
For most grain growing regions in Australia Russian wheat aphid populations are expected to grow within cultivated crops over the winter, then will disperse during a spring migration into refuges to 'over-summer', and then re-disperse back into emerging crops during an autumn migration. Crop damage requires aphids to migrate into emerging crops at the right time (during crop establishment) and in the right numbers.
This means that a series of events need to occur:
Conditions during the previous spring support successful migration of aphids from mature cereal crops onto appropriate hosts for the summer period;
Conditions over the summer support aphid survival in sufficient numbers to migrate; and
Conditions during the autumn support successful migration of aphids into emerging crops. As such, conditions across the previous growing season and the intervening summer will be influential in determining risk of aphid establishment at crop emergence.
Russian wheat aphid in green bridges
Russian wheat aphid persistence in green bridges is associated with moderate temperatures of below 20ᵒC, low to moderate available soil moisture (5% in top 0-10 cm), with migration occurring when daily maximum temperatures exceed 24°C.
More information: How does climate affect the green bridge (and consequently aphid risk)?
Research investigating the factors that increase the chance of aphid survival has supported development of a GRDC funded forecasting tool by Cesar Australia and SARDI that predicts where suitable climatic conditions for supporting Russian wheat aphid remain highest over October to April*.
The forecast output shows that while there is regional variation throughout south eastern Australia, green bridge refuge risk is predicted to be higher across several districts of south-eastern grain growing areas during 2020-21 compared to 2018-2019 and 2019-2020 (see maps). The darker coloured refuge risk percentages are those areas where Russian wheat aphid would be most likely to persist based on data collected from field surveys across 2018-19.
Russian wheat aphid green bridge refuges include a variety of grassy weeds and volunteer cereal crops. Researchers at Cesar Australia and SARDI observed that the highest preferred alternate host was barley grass, which appeared to be more palatable for Russian wheat aphid than volunteer cereal crops. This was followed by preference for Brome grasses (incl. prairie grass), rye grass, Phalaris and wild oat. These alternate hosts frequently show none of the outward symptoms of Russian wheat aphid colonies which are common in cultivated crops (such as leaf rolling and streaking).
It is important to note that the green bridge model developed for this project requires validating with on the ground data. We would be interested to ground truth the model prediction with what you are seeing when monitoring green bridges and crops, so send your monitoring reports in both before and after sowing.
Finally, a higher presence of Russian wheat aphid in the green bridge in some areas does not necessarily mean they will move into crops. However, the higher refuge risk does serve as a timely reminder to plan green bridge management and to monitor establishing crops for movement of aphids into paddocks.

Management insights
Germination and persistence of Russian wheat aphid refuges should be monitored after rainfall events (e.g. barley grass germination).
It is important to implement weed control measures while the plants are younger and more susceptible, and to ensure that green material is dead and dry for a minimum of 4 weeks prior to sowing.
A combination of autumn monitoring when crops are emerging and the use of economic thresholds (more than 20% of seedlings infested up to the start of tillering) to determine cost effectiveness of intervention is the recommended management strategy for Russian wheat aphid (when crops reach GS30, see the Russian wheat aphid calculator).
Acknowledgements
Thanks to Dr Lizzy Lowe, Dr James Maino, Dr Maarten Van Helden and Julia Severi for their assistance developing this article.
*Research was funded by the GRDC investment 'Russian wheat aphid regional risk assessment and regional thresholds' (UOA1805-018RTX).