Russian wheat aphid action threshold calculator
Decision aid tool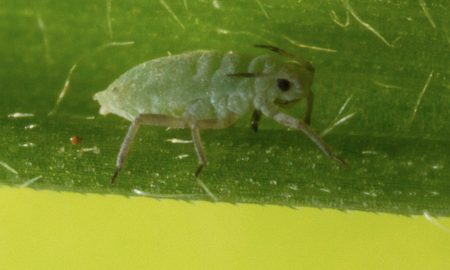 Photo by Andrew Weeks, Cesar Australia
Researchers from SARDI and Cesar Australia have developed a calculator to help crop advisors and growers decide if spraying for Russian wheat aphid (RWA, Diuraphis noxia) is economically justified.
This action threshold calculator considers dynamic factors including cost of control, cereal market price and aphid numbers.
It can be used between GS30 (start of stem elongation) and GS50 (start of head emergence), although monitoring is recommended at GS30 as early infestations of this aphid can prove the most impactful on potential yield.
This action threshold calculator is the culmination of field trial data collection and analysis over two winter cropping seasons (2018-2019) in south eastern Australia.
Any feedback on the calculator can be sent to info@cesaraustralia.com
The GRDC investment UOA1805-018RTX 'Russian wheat aphid risk assessment and regional thresholds', investigated regional risk and management tactics for Russian wheat aphid (RWA). The project was led by the South Australian Research & Development Institute (SARDI) and undertaken in partnership with Cesar Australia over 2018-2020.
The calculator
Prior to using the calculator it's important that you read the following document – Russian wheat aphid action threshold calculator: instructions for use: