In 2018 and 2019, we have received a handful of reports detailing poor efficacy when using registered rates of synthetic pyrethroid insecticides when controlling native budworm (Helicoverpa punctigera).
While we haven't gotten to the bottom of why this has happened, we have put together a list of questions to consider if you have experienced poor insecticide efficacy:
1. Could it be Helicoverpa armigera?
Native budworm belongs to the same genus 'Helicoverpa' as the corn earworm (Helicoverpa armigera). The two species are almost indistinguishable as larvae and adults.
While they look very similar, there is an important difference – corn earworm has evolved insecticide resistance to several mode of action groups including synthetic pyrethroids, and native budworm has not (that we know of).
The potential for misidentification of native budworm as corn earworm is not likely in Victoria or even in the very southern regions of NSW during October.
It is important to remember that native budworm is a winter and spring cropping pest – the moths are highly migratory, arriving in southern cropping regions from the arid inland usually during August and September.
On the other hand, corn earworm adult moths are largely thought to emerge from pupae hiding 'in situ' in the soil of agricultural regions. Their emergence from pupae cases requires a certain temperature threshold, by which time harvest is largely underway for winter crops. Therefore, corn earworm is a summer pest in cooler regions.
Misidentification between these two species is more likely to occur in northern regions of NSW but also south of Dubbo to an extent e.g. in the central west slopes and plains, where climatic conditions support corn earworm adult emergence over a great part of the year.
Note this information is a 'rule of thumb'. If you are suspicious about the identity of your caterpillars, all areas of Victoria and southern New South Wales can send us a sample to for identification or contact us for assistance.
2. Are larvae hiding out in pods and seeds?
The cases of poor insecticide efficacy have been reported from lentils, faba beans and field pea. These are all crops in which small native budworm larvae can bore into pods and evade insecticide sprays.
Naturally, we have been wondering if this could be behind larvae surviving insecticide applications.
If larvae appear to be surviving insecticide applications, keep an eye out for holes in pods. Warm weather, like we have experienced recently and is forecasted this week, can trigger burrowing activity in small larvae.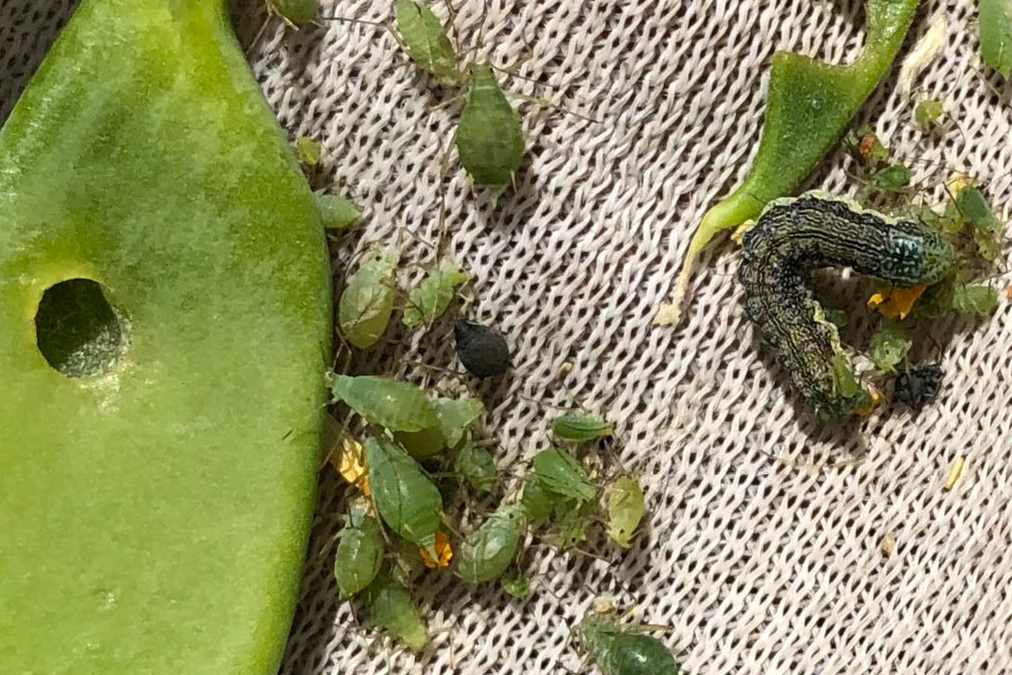 If you have seen larvae survive insecticides in canola – a crop where native budworm larvae tend to feed on pods from the outside and can't hide very well in – this would provide a clue as to whether or not burrowing is a key reason behind poor spray efficacy, so do let us know!
3. How big were the larvae when sprayed?
Several insecticide labels state that best results are obtained after hatching or on very small larvae for native budworm control. Some actives aren't recommended for use after larvae reach a certain grow stage (e.g. Nucleopolyhedrovirus). Always check labels for their critical comments when considering which chemistry to use.
For more information, visit our native budworm PestNote or if you would like to chat about insecticide efficacy, please don't hesitate to contact us.