Through a GRDC-funded study, cesar researchers have examined the efficacy and length of protection provided by insecticide seed treatments against Russian wheat aphid and oat aphid.
Seed treatments in cereals are useful in protecting crops against virus transmission at establishment, and with the arrival of Russian wheat aphid (RWA, Diuraphis noxia) in Australia, in providing early season protection against feeding damage.
In a recent study led by cesar researcher, Lisa Kirkland, the efficacy and length of protection afforded by several insecticide seed treatments against Russian wheat aphid and oat aphid (Rhopalosiphum padi) were tested.
Study method
The experiment was conducted under 'semi-field' conditions using closed artificial microcosms with added aphids. As such, caution should be taken in applying the results of the experiment to field conditions. Nonetheless, the results have revealed some insightful trends.
The seed treatments (Table 1) were tested on wheat (cv Trojan) grown for sixteen weeks.
The aphids were introduced two weeks after emergence.
Each species was designated their own treatment and aphid populations were counted fortnightly.
To simulate aphid colony establishment at different growth stages, after counting, the populations were 'reset' back to a level of 30 aphids per microcosm by removing or introducing individuals.

Study results
The results of this study are summarised in Figure 1.
They show all insecticide seed treatments currently registered for use in Australian cereal crops are effective against Russian wheat aphid and oat aphid.
Interestingly, oat aphids were able to persist and reproduce on wheat at an earlier growth stage than Russian wheat aphid. This indicates the oat aphid is more tolerant to certain insecticides and may therefore re-infest insecticide-treated wheat fields earlier than Russian wheat aphid.
Higher label rates of Cruiser and Cruiser Opti increased the length of protection by 2–3 weeks in this trial, while the addition of the synthetic pyrethroid lambda-cyhalothrin in Cruiser Opti did not provide clear benefits over Cruiser in protection against aphids.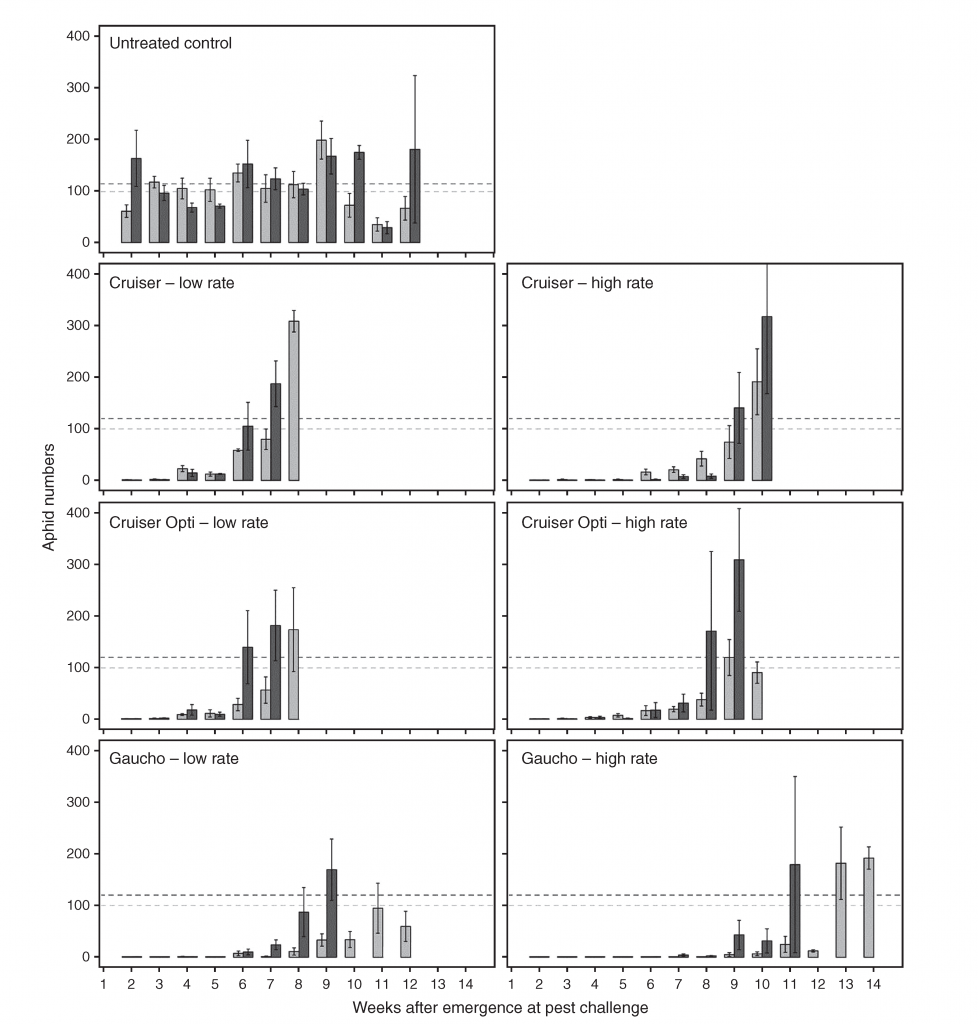 Management implications
Seed treatments are clearly effective at curbing Russian wheat aphid colonisation and feeding damage in establishing crops. And unlike foliar sprays, they reduce the risk of chemical exposure to growers and spray operators, and in many cases, reduce the risk of damage to non-target organisms.
Yet, to ensure seed treatments (particularly neonicotinoids) remain a long-term viable control option for grains pests, industry stewardship and good resistance management are vital. There are risks with neonicotinoid seed treatments, especially if used pre-emptively across large expanses of cropping land every year.
As such, we suggest that insecticide seed-treatments, while efficacious, should be used with caution and given priority in areas of high risk of infestation of Russian wheat aphid in 2019.
Acknowledgements
This work was supported by GRDC and made possible with the support of Advanta Seeds, Syngenta Australia and Bayer CropScience.
Reference
Kirkland LS, Pirtle EI & Umina PA (2018). Responses of the Russian wheat aphid (Diuraphis noxia) and bird cherry oat aphid (Rhopalosiphum padi) to insecticide seed treatments in wheat. Crop and Pasture Science 69: 966-973.