The thought of any animal trapped underwater, slowly drowning while it frantically searches for an escape is horrific.
And yet this is what was happening every year in Victoria and other states with people using enclosed yabby traps (i.e. opera house nets, drum nets etc.).
These nets trap indiscriminately and frequently drown platypuses (as well as other air-breathing animals such as rakali and turtles).
The discovery of five platypuses drowned in two abandoned opera house nets in West Gippsland in May last year was the trigger to establish the Victorian Alliance for Platypus Safe Yabby Traps. The Alliance was a collaboration of concerned individuals and organisations including platypusSPOT (cesar), Doug Gimesy Photography, VR Fish, Melbourne Water, DELWP, Platypus Education Group, Yarra Riverkeeper, Werribee Riverkeeper, Ecology Australia and Shire of Yarra Ranges with a number of other powerful organisations also supporting the cause (e.g. PETA, Animals Australia, Environment Victoria).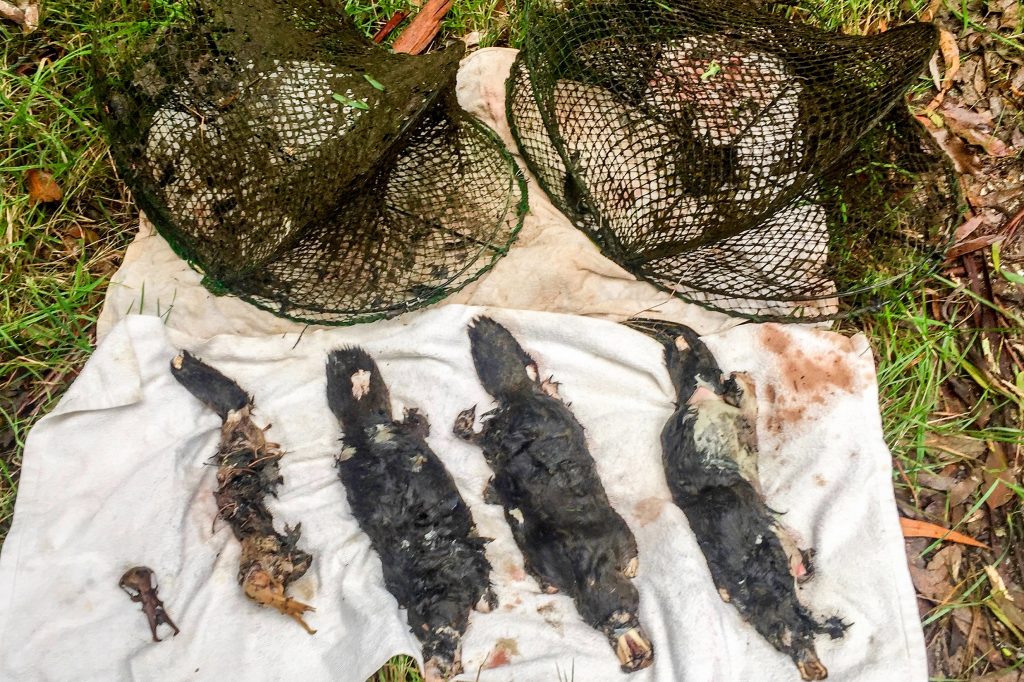 Regulations to prevent use of enclosed yabby traps were ambiguous, varied from state to state, and the nets were being sold with no warnings. As a result, there were fourteen known platypus deaths over a 9-month period in Victoria during 2017-18. In reality, many incidents would go unreported, so we suspect we only hear of a small number of actual deaths.
This was simply unacceptable.
With the input, knowledge and skills from the range of different people involved, the Alliance developed a coordinated, strategic approach to addressing this issue that included:
Changing regulations in Victoria to ban use and possession in all waterways;
Removing enclosed yabby traps from sale;
Educating the public of the dangers posed by these types of nets.
Following months of meetings, emails, discussions with Victorian Fisheries Authority and an online petition, The Victorian Minister for Agriculture, Hon Jaala Pulford recently announced these nets will be banned across ALL Victorian waterways. There will also be a swap out scheme, so people can exchange their dangerous opera house nets with wildlife safe yabby nets, such as open top pyramid or hoop nets.
Many major retailers such as Ebay, BCF, Kmart, BigW, Anglers Warehouse and CH Smith chose to voluntarily stop selling these nets online and in-store well ahead of the upcoming ban once they were made aware of the issue by the Alliance and supporters.
Some retailers have withdrawn them from sale immediately while others are moving existing stock. This was such an important step to reduce the availability of these nets immediately and we applaud these organisations for their corporate leadership.
The education campaign will be ongoing but after almost 12 months of hard work by all people involved, the change in regulations, swap out scheme, and removing these nets from most stores in Victoria is a huge step in stopping the needless drowning of platypuses (and other wildlife). Hopefully NSW and Queensland will follow Victoria's lead on this important issue.