The South Australian Research and Development Institute (SARDI) and cesar have been sampling Russian wheat aphid (RWA) over spring, with follow up surveys to be conducted in late summer, to determine what conditions support survival of the aphid leading into autumn sowing.
Here are some early observations and advice from the project team.
What has been the extension of range as noted by advisor reports last season and through green bridge survey work?
RWA is present in a large, and still expanding, area covering all cereal growing regions of South Australia, Victoria, Tasmania and most of New South Wales.
Our spring sampling shows that the aphid is widespread across these regions in at least low numbers (we do not know how typical this spring distribution is as we have only sampled for one season).
Recently, the aphid has been detected at Coonabarabran and the Liverpool Plains (New South Wales), which represent a northerly extension of range for this aphid.
What do we know about the environmental conditions under which RWA will thrive?
Despite few RWA issues reported to PestFacts services during the 2018 cereal growing season, our spring sampling detected RWA in all cereal growing regions where RWA has been reported previously.
The presence of RWA in an area does not automatically mean it will cause damage to crops. RWA needs to infest cereals in early autumn in order to develop into damaging population levels in spring during booting and flowering.
This year's observations support international research findings that indicate mature crops (GS 40 or higher) are less attractive and are less likely to be invaded by RWA in spring.
Field observations and experiments over the last three seasons indicate that RWA abundance and development on crops is much higher in low rainfall zones (<400 mm per year) and on drought stressed crops.
However, this work is ongoing – RWA is still a very new pest to Australia and we are continuing to learn about its biology as the current investment progresses.
Based on survey work, what are the main grass species that are currently supporting RWA?
During our spring sampling we have found RWA on a variety of non-crop grasses, with barley grass appearing to be the preferred host, followed closely by brome grasses (including prairie grass).
Symptoms (curled and striped leaves and trapped heads) were rarely observed in non-crop grasses. Looking for symptoms is therefore not a good strategy for monitoring RWA presence in weeds.
Volunteer cereals and weedy grasses found within next season's cereal paddocks should be controlled at least 2-3 weeks prior to sowing. This will aid in reducing local numbers of the aphid pre-production.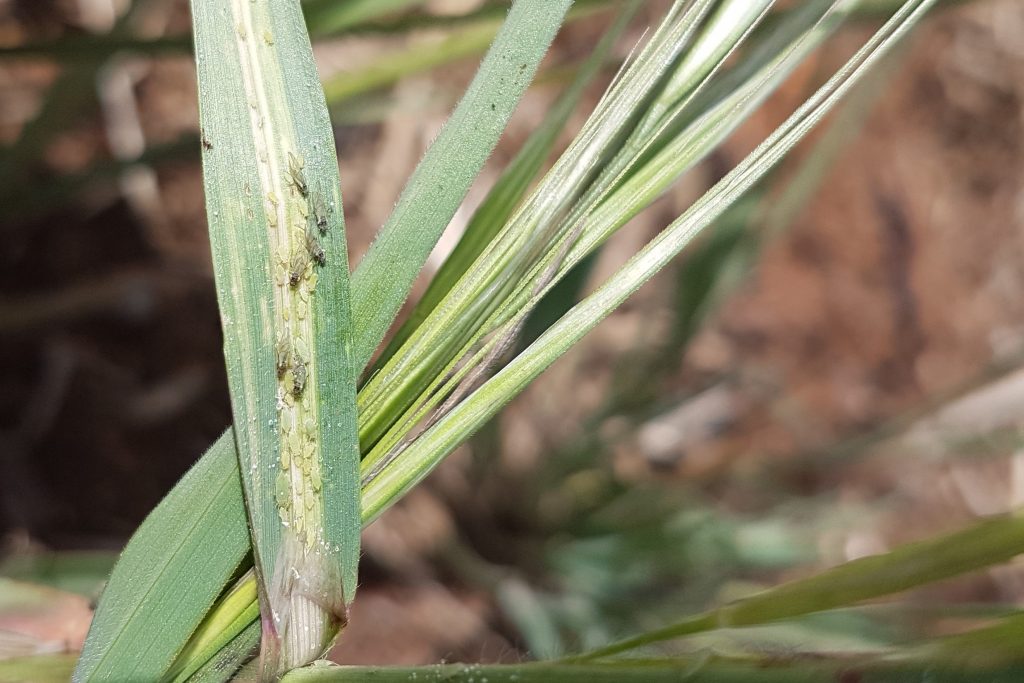 How will the climate outlook from now until March affect populations?
This investment is assessing the ability of RWA to survive under different climate conditions. While we have one season of data so far and can give limited advice, here is what we can say:
Hot and dry summer conditions will reduce over-summering populations of the aphid, with RWA likely to persist where there is available moisture and green material (from rainfall or irrigation).
The long-term climatic outlook for the south eastern region from December 2018 to January 2019 expects higher than normal temperatures – this is unfavourable for RWA survival.
The long-term climatic outlook for the south eastern region from December 2018 to January 2019 expects average rainfall – this will have a neutral effect on RWA survival. Localised summer rainfall events resulting in germination of weeds like barley grass can, however, change this situation by providing further refuges.
More pertinent information about environmental influences is likely to be gained at crop establishment, particularly in regard to area-wide aphid abundance and flight timing. Significant early infestation of a crop will only occur through a combination of abundant green bridge and good flight conditions that would aid RWA migration to cereal paddocks during the seedling stage in early autumn. Good flight conditions for aphids are calm, warm days over 20°C. Over the 2018 season these conditions were not met in southern Australia.
Risk of using seed treatments each year
Registered neonicotinoid insecticide seed treatments are very effective to avoid autumn infestation of crops if RWA are migrating. However, over the 2018 season migrations into crops did not occur in most areas where RWA is present, most likely due to unfavourable conditions for aphid survival over summer, and unfavourable flight conditions.
Using neonicotinoid seed treatments (Imidacloprid, Clothianidin, Thiamethoxam) on each crop and each rotation can support the evolution of resistance in RWA as we are seeing in other notorious crop pests, such as the Green Peach Aphid, which has recently acquired moderate resistance to neonicotinoids in Australia.
We urge growers to use neonicotinoid seed treatments judiciously, according to the regional risk, and using the FITE (Find, Identify, Threshold, Enact) approach.
RWA is easy to detect in autumn and winter before yield is impacted. If RWA is present in potentially damaging numbers it can be controlled efficiently by insecticide sprays around growth-stage 32-40, eliminating the aphids before there is a risk of yield loss. The overseas threshold at GS 30 is >10% of tillers infested. See the RWA Tips and Tactics guide for further information.
Biosecurity practices for limiting spread
While RWA is carried on wind currents during seasonal migrations there are other ways this aphid can spread to new areas. These include:
On fodder and nursery seedlings
On vehicles and machinery
On clothing
Biosecurity best practices should be followed on-farm and by regular farm visitors, such as advisors. For information on biosecurity best practices visit farmbiosecurity.com.au, contact your state Grains Biosecurity Officer or download the Biosecurity Manual for Grain Producers.
It is important that we have an understanding of where this aphid is, so management advice and research findings can be directed to areas where new infestations have been found. Therefore, we encourage growers and advisors to report detections in new regions.
If you do suspect a new infestation, take an image of the aphid or plant symptoms and contact your state agricultural department. You might be asked to send a sample for identification.
Acknowledgements
This research initiative is a GRDC investment that seeks to deliver information on Russian Wheat Aphid management for grain growers. This project is being undertaken by the South Australian Research & Development Institute (SARDI) and cesar.