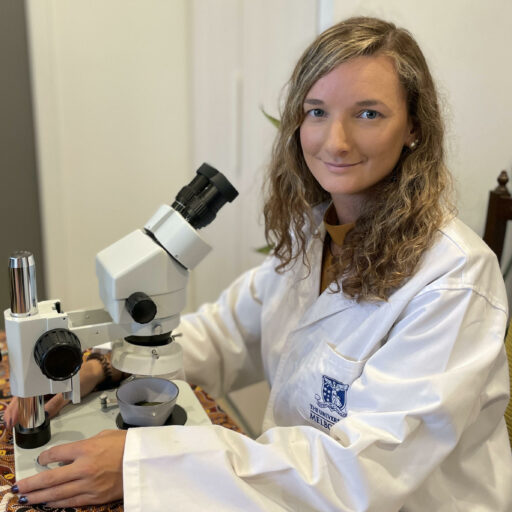 Samantha Ward
Research Scientist
Bachelor of Science (Zoology), Master of Science (Environmental Management), PhD (Agricultural entomology)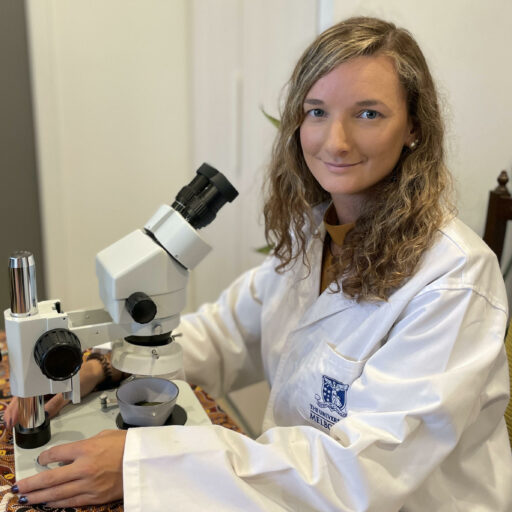 Sam joined the Cesar Australia team to manage the green peach aphid (GPA) work and use her expertise in taxonomy to contribute to a range of Cesar Australia projects.
In Wales, Sam received a first degree in BSc Zoology studying garden snails. She received industry funding to undertake an MSc in Environmental Management, investigating the effects of woodland conservation on arthropods. After spending a few years travelling around the globe and volunteering at the Natural History Museum in London, UK, working on parasitoid wasp taxonomy, Sam decided to return to study. At the University of Melbourne, she began a PhD on the topic of using parasitoid wasps to control grain aphids in 2016. A highlight of Sam's career was naming a species of parasitoid wasp after her father; 'Eretmocerus garrywardi'.
Sam is passionate about food security, habitat management and the adoption of beneficial invertebrates within integrated pest management strategies. As the editor of the Australian Entomological Society's newsletter, Myrmecia, she is at the forefront of entomological news.
When not at work, Sam can be found adventuring around Australia or other parts of the world, looking for animals at all times of the day! She is a scuba diver instructor and enjoys reading crime novels.
Barton M, Parry H, Ward S, Hoffmann A, Umina P, van Helden M, Macfayden S (2021) 
Forecasting impacts of biological control under future climates: mechanistic modelling of an aphid pest and a parasitic wasp. 
Ecological Modelling, 
457(3): 109679
Ward S, Umina P, Polaszek A, Hoffmann A (2021) Study of aphid parasitoids (Hymenoptera: Braconidae) in Australian grain production landscapes. Austral Entomology 60(4), 722-737
Ward SE, Umina PA, Macfadyen S, Hoffmann AA (2021) Hymenopteran parasitoids of aphid pests within Australian grain production landscapes. Insects 12(1): 44.
Ward SE, van Helden M, Heddle T, Ridland PM, Pirtle E, Umina A (2020) Biology, ecology and management of Diuraphis noxia (Hemiptera: Aphididae) in Australia. Austral Entomology, 59(2): 238-252.
Schmidt S, Hamid H, Ubaidillah R, Ward S, Polaszek A (2019) A review of the Indonesian species of the family Signiphoridae (Hymenoptera, Chalcidoidea), with description of three new species. ZooKeys, 897: 29-47.
Ward SE, Shih YT, Ko C-C, Polaszek A (2016) Two new species of Eretmocerus Haldeman (Hymenoptera: Aphelinidae) parasitizing Aleurolobus rhododendri Takahashi and Dialeuropora decempunctata (Quaintance & Baker) (Hemiptera: Aleyrodidae) from Taiwan. Biodiversity Data Journal, 4(4): e7713.
Ward SE, Valente C, Gonçalves C, Polaszek A (2016) Rediscovery and redescription of Centrodora damoni (Girault) (Hymenoptera: Aphelinidae) from Australia, an egg parasitoid of Gonipterus spp (Coleoptera: Curculionidae), after nearly a century. Biodiversity Data Journal, 4(4): e7766.
Polaszek A, Shih Y-T, Ward SE (2015) A new species of Cales Howard, 1907 (Hymenoptera: Aphelinidae) parasitizing Bemisia pongamiae (Takahashi) (Hemiptera: Aleyrodidae) in Taiwan, with a key to world species of the Cales spenceri-group. Biodiversity Data Journal 3(4): e6352.