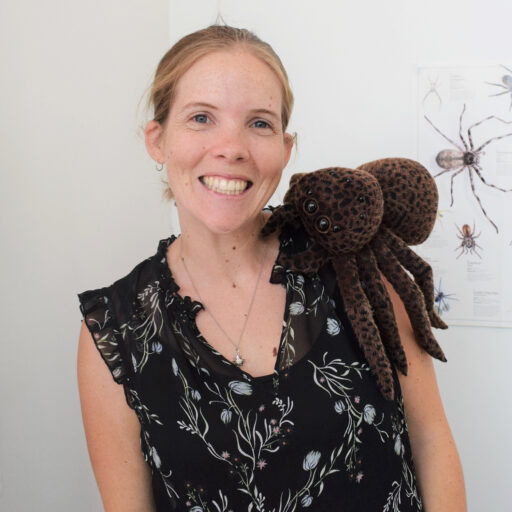 Lizzy Lowe
Lead - Extension Scientist
Bachelors degree with honours (Zoology and Biochemistry), PhD in Ecology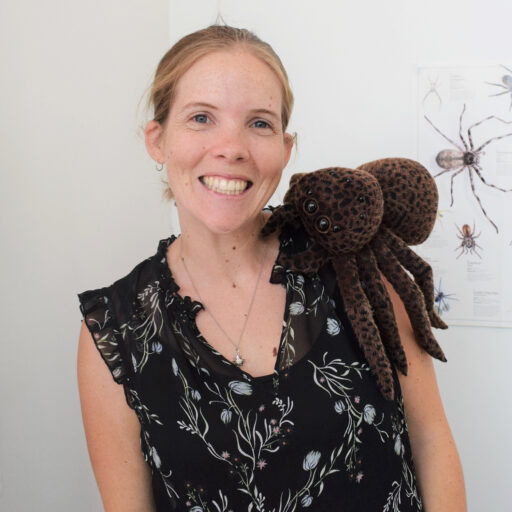 Lizzy leads the Cesar Australia extension team and coordinates the national IPMforGrains project. She also uses her expertise in community engagement and entomology to contribute to a range of other projects.
Sustainable insect management and biodiversity conservation have always been the core focus of Lizzy's research.  After completing her honours project on honeybees in Western Australia, Lizzy moved to Sydney to undertake a PhD on the topic of spiders and their responses to urbanisation. She has since worked as a researcher at The University of Hamburg, The University of Auckland and Macquarie University.
Spiders and beneficial insects are her passion, and she likes nothing more than working with the public and explaining why everyone should love "bugs". You will often find her visiting schools, leading community education walks and talking on the radio about backyard insects.
Two highlights of Lizzy's career so far are being selected for the 2019 International Green Talents program in Germany and the 2019-2020 Superstars of STEM program which have allowed her to meet many amazing people and have provided an international platform for her invertebrate conservation work.
She maintains strong connections with the academic community, pest control professionals and local government in Sydney, and is continually working towards bringing these groups together to improve IPM practice.
Saunders ME, Barton PS, Bickerstaff JRM, Frost L, Latty T, Lessard BD, Lowe EC, Rodriguez J, White TE, Umbers KDL (2021) Limited understanding of bushfire impacts on Australian invertebrates. Insect Conservation and Diversity.
Threlfall CG, Marzinelli EM, Ossola A, Bugnot AB, Bishop MJ, Lowe EC, Imberger S, Myers S, Steinberg PD, Dafforn KA (2021) Towards cross-realm management of coastal urban ecosystems. Frontiers in Ecology and the Environment.
Lowe EC, Wolff JO, et al. (2020) Towards establishment of a centralized spider traits database. The Journal of Arachnology.
Jeliazkov A, Mijatovic D… Lowe EC… et al. (2020) A global database for metacommunity ecology, integrating species, traits, environment and space. Scientific data, 7(1), 6.
Harvey JA, Heinen R… Lowe EC…  et al. (2020) International scientists formulate a roadmap for insect conservation and recovery. 4, 174–176 Nature Ecology and Evolution.
Rathnayake DN, Lowe EC, Rempoulakis P, Herberstein ME (2019) Effect of natural predators on Queensland fruit fly, Bactrocera tryoni (Froggatt) (Diptera: Tephritidae) control by Sterile Insect Technique (SIT) Journal of Pest Management Science 75(12), 3356-3362.
Lowe EC, Latty T, Cameron Webb C, Whitehouse M, Saunders M (2019) Engaging urban stakeholders in the sustainable management of arthropod pests. Journal of Pest Science 92(3), 987–1002.
Bugnot AB, Hose GC, Walsh CJ, Floerl O, French K, Dafforn KA, Hanford J, Lowe EC, Hahs AK (2019) Urban impacts across realms: Making the case for inter-realm monitoring and management. Science of The Total Environment. 15(648), 711-9.
Fabricant SA, Burdfield-Steel ER, Umbers K, Lowe EC, Herberstein ME (2018) Warning signal plasticity in hibiscus harlequin bugs. Evolutionary Ecology 1;32(5), 489-507.
Lowe EC, Wilder SM, Hochuli DF (2018) Environmental drivers of spider community composition at multiple scales along an urban gradient. Biodiversity and Conservation 27(4), 829-852.
Lowe EC, Wilder SM, Hochuli DF (2017) Life history of an urban-tolerant spider shows resilience to anthropogenic habitat disturbance. Journal of Urban Ecology 3(1).
Lowe EC, Wilder SM, Hochuli DF (2015) Persistence and survival of the spider Nephila plumipes in cities: do increased prey resources drive the success of an urban exploiter? Urban Ecosystems 19(2), 705–720.
Lowe EC, Wilder SM, Hochuli DF (2014) Urbanisation at Multiple Scales Is Associated with Larger Size and Higher Fecundity of an Orb-Weaving Spider. PLOS ONE 9(8), e105480.
Colas des Francs-Small C, Falcon de Longeviall A, Li Y, Lowe EC, Tanz S, Smith C, Bevan M, Small I (2014) The PPR proteins TANG2 and OTP439 are involved in the splicing of the multipartite NAD5 transcript encoding a subunit of a mitochondrial complex I. Plant Physiology 165(4), 1409-1416.
Lowe EC, Simmons LW, Baer B (2011) Worker heterozygosity and immune response in feral and managed honeybees (Apis mellifera). Australian Journal of Zoology 59(2), 73-78.